The Forum is a regular meeting for older people to have a say about the things that matter to them. The Forum offers a chance to find out about different services available to older people and to help influence the way these services are delivered. It is also a good opportunity to meet people and enjoy a social gathering.
Following the successful launch in July 2012,  the Forum now meets regularly at Forum meetings every other month ….. not to mention other special events throughout the year!
You can also keep up-to-date on all our activities by reading our newsletter,  'The Voice' and you'll find booking forms on the same page.
Please note:

  
All our Forum meetings take place in St Paul's Church Meeting Room in Victoria Avenue (opposite Harrogate Library). Admission is £2 and includes refreshments and a raffle ticket.

We do not issue tickets for any of our events, unless otherwise stated on the booking form.
There are no refunds for non-attendence for the day trips.
 All bookings for the Lunch Club need to be received 

at least 4 days before

the date of the lunch please, to Suzanne Marsland  01423 560384.  Please book early, as numbers are rising. If you are subsequently unable to attend, please contact the organiser in fairness to the restaurant and other members.
Cheques should be made payable to 'HDOFF' (only).
Forum Events 2021 
We have planned a full programme of events for 2021. However these may be cancelled if the pandemic restrictions require this.
Thursday March 25th     2 – 4 pm     'Commemorating Heroes' (Commonwealth War Graves Commission) – A talk by Elizabeth Smith       Followed by the AGM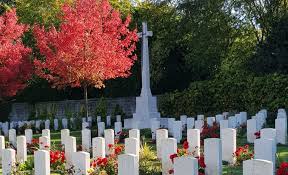 Our AGM will take place on March 25th following a presentation by Elizabeth Smith from the Commonwealth War Graves Commission (CWGC). Elizabeth travels around the country talking about the work of the CWGC which maintains all the headstones and memorials to the fallen of WW1 and WW2 throughout the world. As well as talking to groups and school children, she recently conducted two fully-booked Heritage Day visits to Stonefall Cemetery in Harrogate, which included the histories of some of the nearly 1000 air crew members who are buried there. We regret that this event has had to be postponed.
Thursday April 15th         Day trip to Shibden Hall and Bankfield Museum
This is the first of the 2021 trips and, we will be visiting Shibden Hall, near Halifax, where the 'Gentleman Jack' television series was filmed. When we arrive we have time for a coffee. I am hopefully arranging a land train to take us up to the house for those who do not wish to walk up as there is a slight incline. There will be a talk before we go around the house. I have been informed that there are only stairs to the upper floor. When you have finished you will be able to have lunch in the Lakeside Cafe.
We will meet all together for the coach journey (10 mins) to Bankfield Museum at 2pm. They have a costume exhibition 'As seen on TV' which is new this year, as well as their own costume exhibition and further displays. There is a small cafe with light snacks and drinks if you wish to rest a while.   We will be leaving Halifax about 4pm. We regret that this event has had to be postponed.
Thursday May 20th       2 – 4pm     Springtime Special  We regret that this event has had to be postponed.
Details to follow
Thursday June 17th      York boat trip and afternoon tea
Further details for bookings to follow.
Thursday July 22nd     2 – 4pm     'Not for the faint-hearted' – a talk by John Shackleton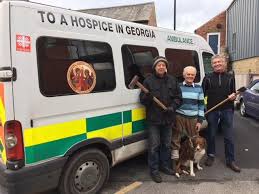 As the title suggests, Jon Shackleton will talk about some of his adventures while making aid deliveries in dangerous conditions.
Thursday July 29th     Day trip to Renishaw Hall and Garden
This beautiful hall is still a family home. There will be a conducted tour and plenty of lovely grounds to explore.
Thursday August 26th     Day trip to Sutton Bank and Breezy Knees gardens
A lovely Summer's day trip to Sutton Bank and Breezy Knees gardens – 20 acres bursting with colour. Situated on the eastern outskirts of York, some 5 miles from the city centre, Breezy Knees features award winning gardens, a specialist perennial nursery and cafe.
Thursday September 23rd   2 – 4pm   'Warm and well fed'
Thrsday October 21st    Day trip to Markenfield Hall  – talk and tea
Markenfield Hall is an early 14th-century moated manor house about 3 miles south of Ripon, North Yorkshire, England. It is in the civil parish of Markenfield Hall, which in 2015 had an estimated population of 10. The estate was an extra parochial area in the Hundred of Burghshire. It was made a civil parish in 1858. Wikipedia
Thursday November 25th    2 – 4pm   'Making the most of life'
Date to be confirmed         Frum Christmas Lunch
To see previous events this year  ….. follow this link