Congratulations to the estate agents for their eye-catching advertising hoardings outside the old Harrog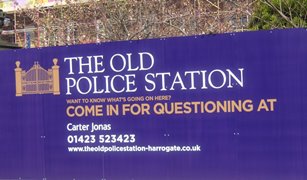 ate police station.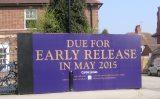 However, there are no details from North Yorkshire Police about how to find the new police station. Do you know where it is?  Is it well sign-posted? Do you know how to get there on public transport? When is it open?    
Admittedly it's a couple of years since the old police station closed but, if you haven't needed it, you might be forgiven for not knowing the location of the new one, which opened in April/May 2012. At our Forum AGM last month, it became apparent that less than half of those present knew where the new police station is in Harrogate. Do you know where it is?
At one time, people used to say, if you want to find somewhere, ask a policeman. Not that relevant today maybe, when there are fewer policemen on the beat.  Anyway, the police station is situated in Cardale Park. A 'state of the art' police station in Harrogate, well only just. If someone tells you 'it's at the top of Otley Road', make sure that you get precise details of where it is. According to some visitors, it's not that easy to find. Even more confusingly, the Sat Nav directions use a different postcode to the one used for its postal address (if you get my drift).
For those using public transport, you need to ask for 'Beckwith Knowle' on the 'green' bus, route number X6A, which runs once an hour from the bus station (Monday – Saturday). This means, that a trip to the police station could take up a significant portion of your day. For details of opening hours and the Sat Nav postcode follow this link.
Good news however, Harrogate has not one, but two, police facilities. As well has the police station at Cardale, there is also a police 'office' in Victoria Avenue.  Slight snag – it's only open 9am – 1pm three days a week and that's not guaranteed if 'operational requirements' dictate otherwise. Click here for details.