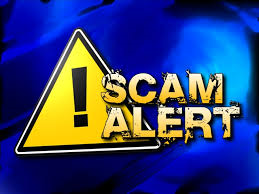 In the current economic climate, most of us are trying to make the most of any opportunity to save money or make the most of our savings. So, we can become more inclined to believe a plausible scheme when it is proposed. Click for  Advice about scams and e-mail  and protecting yourself.
If you witness a scam or unfortunately become a victim of one, please report it so that action can be taken to protect others and to enable the appropriate authorities to taken action against the scammers. (The link also contains an educational video about copycat websites).
As well as the advice on the 'Safety' page, here are some of the latest scams for you to avoid:
Who's looking over your shoulder?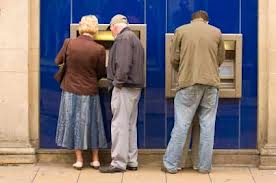 When you're entering your Personal Identification Number (PIN) during a transaction in a shop, at a 'hole in the wall' cash machine or if you're in a queue, be alert to the people around you. So-called 'shoulder surfers' are skilled at acquiring PINs by looking over other people's shoulders. Also, if the machine looks 'odd' in some way, do not use it. Scammers recently tampered with a machine in Leeds Road, Harrogate and stole thousands of pounds.
Take care in restaurants. Do not give your credit card to any of the staff; any transaction should be conducted at the table using a portable machine.
There have been reports of card details being cloned/stolen by thieves using machines, out of the sight of customers.
A warning has been issued about websites purporting to be Government organisations but which are charging extra for services which should have a fixed fee. The services include renewal of driving licence, passports etc. (Updated March 2014) If you are looking to renew your driving licence or passport on-line, instead of using a search engine (such as Google, Ask etc), go to the Government website www.gov.uk to search for your document or department. This will help you to avoid commercial sites.
If you're not sure how to recognise a copycat site, please click here. For an example of how easy it could be to be tricked by a phishing e-mail click here
HM Revenue & Customs (HMRC) has issued a warning about a scam involving telephone calls and e-mails requesting a payment or offering a rebate. HMRC states that it would not use e-mail communications for payments or refunds.
The Air Ambulance Service charity has issued a warning about a scam involving fraudulent collectors who are requesting donations via scam leaflets. The leaflets advertise a company called 'Air Ambulance Service', which is not linked to the charity.  (November 2013)
People, who are booking villas and accommodation in beach resorts or ski resorts on-line, are warned that some of the websites are bogus. You are advised to make appropriate checks to make sure that your booking is  genuine and to pay only with credit or debit cards to ABTA or other certified registered agents. Currently, some websites have been cloned by people claiming to be the owners of the winter holiday accommodation, who ask for payment by money transfer. Money transfers, unlike payments by credit cards, mean that you would be unable to recover your money.
A nasty computer scam involving ransomware is currently hitting the headlines. It involves hackers installing malware (destructive programmes) which disables the victim's computer. They then demand money and, if the ransom is not paid, they will threaten legal repercussions  or will lock the computer permanently thereby causing the loss of all data, files and photos. This is particularly frightening for victims whose first experience may be an on screen message purporting to be from the police or a fraud unit. The advice is not to pay the ransom, as there is no guarantee that full access to the computer will be restored.
For more information about ransomware and its removal please click here. Alternatively this is a useful article and here is another really useful link.